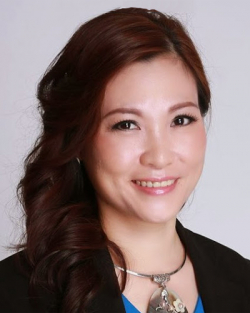 Hazel Sia is an experienced, Certified Professional Trainer and Facilitator for more than 15 years. She has worked with clients from diverse industries, including SME, Banks, Retail Chains, IT/ Pharmaceutical companies, Government Agencies, Construction and Manufacturing sectors, MNC to NGO.
Hazel has helped clients improve on their EQ development, Negotiation Effectiveness & Communication skills, increase motivation and productivity among executives and prepare them for organisational change. As a Career Coach, Hazel has guided many employees, including those employees impacted by corporate restructuring, helping them identify their strengths, discover their potential and find fulfillment in their career, or even the next career.
Prior to being based in Kuala Lumpur, she had worked in Singapore, Hong Kong and China. She started her working years at Singapore Airlines, then at Cathay Pacific Airways. In the mid-90s, she relocated to China, worked at a family-owned design and printing firm that catered to the hospitality industry.